The Evolution of 5G
It's no surprise that mobile telecommunications have undergone significant advances over the last forty years. Today, the fifth-generation mobile network, or 5G, has enabled a new kind of network that is designed to virtually connect both people and machines, objects, and devices. This latest generation of technology has revolutionized what mobile devices can do – and there will be more advances uncovered in years to come.

Download this white paper to discover what you need to know about the next generation of wireless technology.
About the Author
Tom Tidwell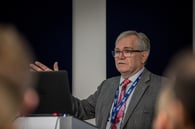 Tom Tidwell is a NARTE certified EMC Laboratory Engineer with over 30 years of direct experience in Wireless, Telecommunications, EMC, and worldwide market access. His experience includes numerous wired and wireless protocols and technologies. He is responsible for Nemko's telecom international approvals. Tom is trained and experienced as a Certification Assessment Body review engineer for the US, Canada, and Notified Body for the EU, Canada, US, and Japan.