Guide for Product Developers: 6 Steps From Idea to Market
All product developers wrestle with the same constraints: time and money. We have created this guide to help you take the right steps while developing your product, giving you more runway and a better chance of a successful take-off.


Being a testing, inspections and certifications body (TIC), we know all too well how the little things can have big consequences. Product development, as free and inspiring as it is, is also about threading the needle under constant pressure. Many underestimate the importance of a well-planned testing and certification strategy, and it can be frustrating to see how easily avoidable situations can be detrimental to someone's hard work and ambitions.
We would like to help all you product developers out there slalom your way to certification and market, preventing non-conformities, time delays and unforeseen expenditures.
Good luck!
The six steps to getting your product market
Regardless of industry, a product development process can be divided into six main stages: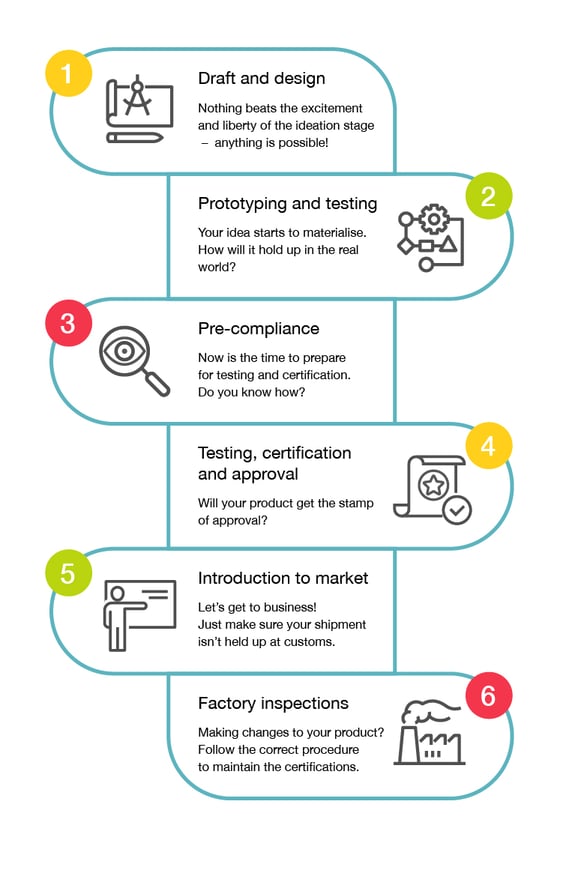 Each step offers up its own set of hurdles and if you don't prepare in time, you run the risk of stalling at critical stages. Countless otherwise viable products never made it to market because the development teams were unaware of what was required; and when they finally found out, it proved too late or costly to make the necessary adjustments.
The good news is that preparation will enable you to overcome such challenges in style. We promised to help get you across the finish line without delay, so let's dive in there.
Draft and design
Whether you're a professional product developer or you've just had your first eureka moment: Nothing beats the excitement of the draft and design stage. Here, where everything is on the table and the only limiting reactant is your imagination, the foundation is cast for those life-changing inventions.
Sooner or later, however, all product developers realise that the limitless bliss of ideation rarely extends into the real world, where ideas are to be materialised – literally. It is time for the build.
Prototyping and testing
The breathtaking array of products available on the global market today, have become reality thanks to an equally rich spectrum of product developers.
Some sell their cars to make room for their very own R&D adventure, right at home in their garage. We love the tales of the hands-on entrepreneurs who, like Google, Amazon, Microsoft and Disney, seek to make their mark on the world from the modest confines of their garages – the favourite incubator space of the cash-strapped inventor. There, they weld together beer cans, microchips and their kid's old bicycles (surely, they won't mind?), tirelessly crafting that otherworldly thing that will forever change the mobility sector as we know it.
At least that's how we like to envision it.
In reality (although the odd outlier does exist), the lion's share of product development happens in much more clinical environments. Larger, established companies have dedicated R&D people and/or departments, and most residential garages are probably still used for – well, cars.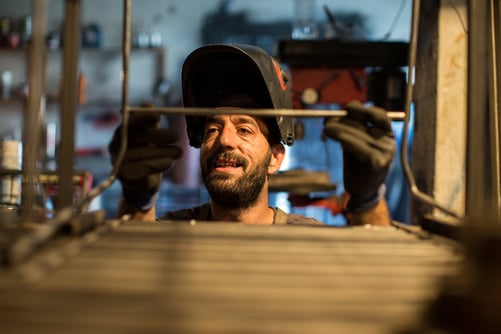 A universal product development process
Consider this definition of an innovation:
"Something that is new, useful and put to use."

Coming up with something new is one thing. Making it useful and achieving market penetration is a different game altogether.
Irrespective of what kind of product developer you are, the product development process is more or less universal. You ideate, you draft, you prototype, you test – and throughout – you're probably wondering how your idea will hold up in the real world. What regulatory standards might apply to your product?
Can your anchoring system go unscathed through 25 years in a saline environment? Will users risk electrical shock if they touch that particular part of the casing? And does the electronic baby shark emit enough noise to properly drive parents out of their minds?
Welcome to the world of compliance and certification.

Read more: Cyber Security: The New Frontier of Product Safety

Pre-compliance: Nipping It In The Bud
«You'd rather re-design than re-build»


What would you rather modify: A cardboard mock-up or a 316 steel casing?
A keen product developer should be forgiven – applauded, even – for eagerness and enthusiasm. It can be tempting to step on it in the early stages, but this is when patience is key. You can save your company valuable time and money by involving a certification professional early in the product development process. A so-called pre-compliance service consists of:
Pre-evaluation

Pre-testing

Certification and international approval recommendations





How confident are you in your prototype?
Pre-evaluation
Get a seasoned professional to evaluate your product. This is to make sure that it will comply with necessary regulatory requirements, and you'll avoid surprises and potential delays in market launch. Remember: You'd rather re-design than re-build.
Read more: Aiming For Compliance? Start With Pre-compliance
Pre-testing
Having witnessed (ok, provoked) our fair share of mishaps, we can promise you one thing: You do not want to put an expensive prototype to the test, only to watch it crumble on day 1 of testing, forcing you back to the drawing board. And yet, it happens all the time.
Pre-testing reduces the risk of having to re-design your product during testing. The key here, as for all other stages of the journey, is to ensure that your product development process stays on track. Some insightful guidance goes a long way to help you avoid non-conformities before your product is put to production.
A simple example: Let's say you're planning to introduce an electrical device to the EU market only, but possibly also to the US at a later stage. Key here would be knowing which cord set each market requires and planning that into your parts purchase – electrical outlets differ from one country to the next.
A pre-testing consultant would advise the manufacturer (you) to buy a universal power supply that can handle 110V in US or 220V in EU, plus the detachable cords that fit the power outlets. Testing on an EU compatible power supply would produce the test results you need for certification in the EU only. Should you later decide to try your luck in the US market, you would have to get a fresh test with the universal power supply, adding thousands of dollars to your expenditures.
Certification and international approval recommendations
Early birds typically pay less, and the same is true in the context of product certification. The sooner you start paving your way to market, the less friction – i.e. cost – you'll face on your way. Identify your product's geographical market potential from a regulatory perspective so that you can ensure the shortest possible time-to-market, thus avoiding potential delays in market launch. An experienced consultant can advise you to plan for relevant certifications/approvals, allowing you to adjust your development and purchasing decisions accordingly.


| | | |
| --- | --- | --- |
| | Do you make ICT/AV products? It's time to transition to hazard-based: | |
| | | |
Testing, certification and approval
Having passed the pre-compliance stage in style, now it's time to get physical. Your products need to comply with standards and safety requirements in the industries and markets relevant to your business. Such compliance will be very beneficial, ensuring your way to the market and, ultimately, to your results. The order of events is as follows:
Testing –> Certifications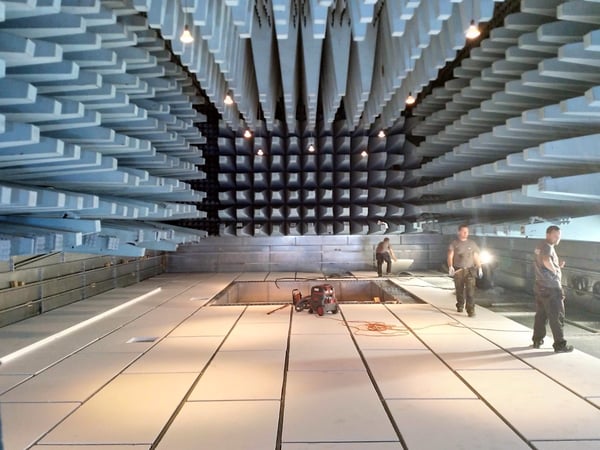 Product Testing – Preparing For The Real World
Testing consists of four stages:
Test planning
Project management
Safety testing
EMC testing
There are industry specific requirements within each of these but for the purpose of this article, we will cover the general bits.
Read more about specific testing requirements here.
Test planning
"Failing to plan is planning to fail"
Test planning always takes place before the testing starts and consists of preparation and planning of the testing schedule. This ensures your testing project is performed in the best possible manner. Test planning can be performed well in advance and can identify the need for detailed preparations, requirements for sample handling and cost estimates.
This can include the specific tests that the product requires, as well as conducting the tests at the appropriate stage of the product development cycle.
Did you know? Test planning can be performed for all of Nemko's product testing services.
Project management
The objective is to get the project securely completed on time, or with minimum delays. Project management is an important tool for keeping a project on track at all times so as to secure a fast and efficient product delivery to the market. It's important to stay informed about the progress of the project at all times – as well as different possibilities to get the project moving again, should you face any holdups.
Safety testing
«Safety first» is a good guiding principle, and it's certainly a non-negotiable part of product testing. Products are typically subject to a wide range of safety tests, depending on the product type and applications of use. You can find an overview of Nemko's services within safety testing here.
EMC testing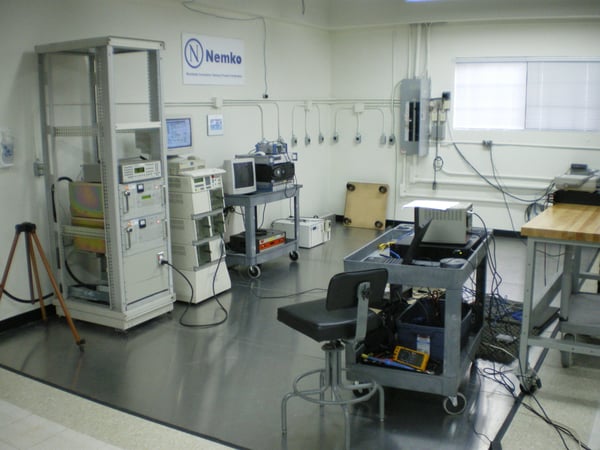 If you think it's challenging to focus in an open space office, just imagine how radio transmitters and receivers feel. We're surrounded by electromagnetic fields and impulses, which to electronics represent constant disturbances. Whether your product will be able to function properly in any given context, largely depends on its ability to withstand electromagnetic interference.
EMC testing is performed to ensure that your product meets territorial and industry-specific requirements.
Certification or approval
As soon as the test results are in, you'll be eager to move on to the next step: Certification or approval (they are used interchangeably). Now, the general order of events is as follows:
The project manager reviews the test results.
The testing body fills out the application for approval.
They submit the application to the agency (electronically).
Pending approval, the testing body follows up on the agency, checks progress.
The agency comes back with the certificate – or they find a non-conformity.
The agency provides the artwork for your product label


Can you find any of the following marks on your phone? Your laptop? Your toaster?

This is what we mean by "artwork" (6). It's basically a stamp of approval, and it is a crucial piece of information to have in place as you get ready to introduce your product to market.
Introduction to market
Your product has been approved, and you're almost ready for business. There are still a few hurdles to be cleared, however.
Some markets require inspections before you ship the product. They will have someone local come and look at the label to give the thumbs up before they'll accept your shipments.
You also need to clear customs: They will be looking for the approval labels, the marks, "the declarations". Non-marked goods can be held up.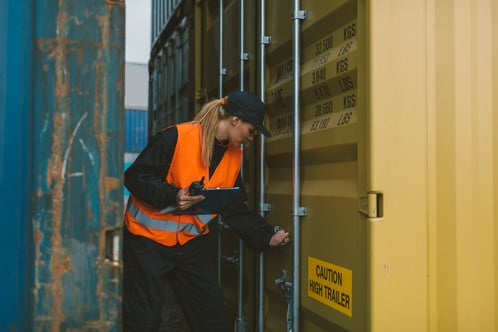 If you're given the all-clear at every checkpoint, you can start selling.
One thing worth noting before we move on to the next stage: The agencies that oversee conformity and compliance are not designed to police the market. Some marks of approval are based on self-declaration, which does make it possible to get subpar products to market. This is not an approach we recommend, as 1) competitors can test your equipment and report any non-conformities to the agencies and 2) your products may end up damaging property or hurting people.
An attestation or certification from a third party will protect both your customers and your brand.
Factory inspections
When a product is up and running in the marketplace, it is only to be expected that its parent company will seek to increase its margins by fine-tuning operations. On the quest to achieve optimal cost-efficiency, it is not uncommon for companies to tweak or replace elements within their products. After all, version 1.0 of something is almost never the finished product. It's just the first version of the product.
The company may decide that it makes sense to replace the power supply, if their R&D department concludes that one of less capacity will do. This is not a problem in principle, but it's a slippery slope because it's easy to forget that modification of critical components could void the certification.
If your product carries e.g. the Nemko mark, and you simply replace its power supply, the whole product is subject to re-certification, and it will instantly go from approved to disapproved. This can easily be avoided. In many cases, the test report that supports the certification can be modified to reflect the update of a critical component, maintaining the certification.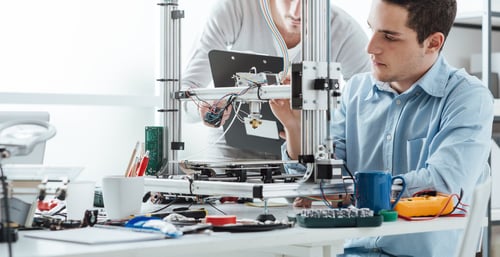 Some certification mark programs require factory inspection. This way, the issuing body can ensure that all products manufactured are identical to the one that was tested and certified.
Thanks for reading our guide, and good luck on your journey to market!